BCN-lonia the hanging gardens of barcelona
BCN-lonia was the result of a design competition Premios Volia 2008 by
servei estacio
Barcelona.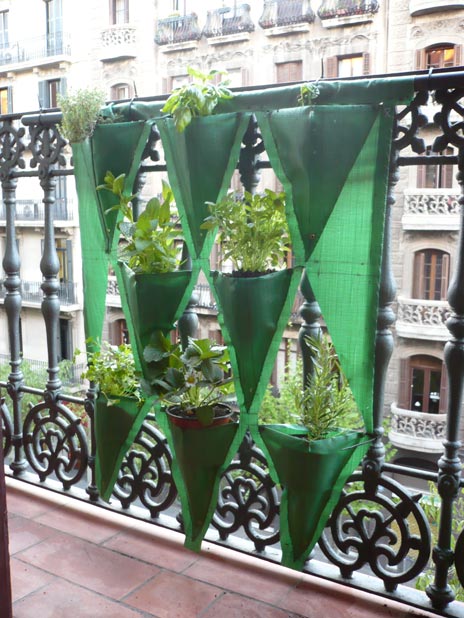 BCN-lonia was inspired by the balconies of Barcelona. This project is based on the joining of two objects that are generally found on them.
1) flower pots
2) mesh/ fencing for privacy
The only outdoor space most people in Barcelona have are balconies about 70cm wide. In order to maximise this tiny space to have plants but without taking up the entire balcony the solution is to place the garden vertically.
The concept was to design a system to hold plants using the least possible materials in a visually pleasing way.
BCN-lonia takes the concept of the vertical garden and brings it to everyone with a balcony.
It acts as a garden, but is also a way of shading ones balcony from view of others.
The name BCN-lonia is a cheeky play on words of the hanging gardens of Babylon – a hopeful wish that one day the balconies of Barcelona will be green an lush with vegetation.
As climate change and economic unrest begins to affect life in Catalunya – more and more people are looking towards having their own urban garden. There are several reasons for this.
1) Fruits and vegetables are rising in price – it seems ideal to be able to grow all or part of your vegetable consumption in your home to help reduce costs of living.
2) If you grow your own vegetables, you know where your food comes from – and control the chemicals you put on the.
3) Gardening is relaxing and helps relieve stress from the modern life we live.
Concept:
The concept of this projects is to use as little
material as possible to create a hanging vegetable
patch that can be placed along any Barcelona balcony.
No waste:
Adjusted to the dimensions of the rafia found in Servei Estacio (1.66m wide) - BCN-lonia is designed to be manufactured with no waste offcuts created in the manufacturing process.
Process:
Rafia should be laser cut to ensure precise pattern cutting. This also helps seal the edges and prevent fraying.
A heat sealer should be used to bind the pieces of raffia together. This is water tight and stronger than traditional sewing.
If sewing is used, then a thick nylon thread should be used.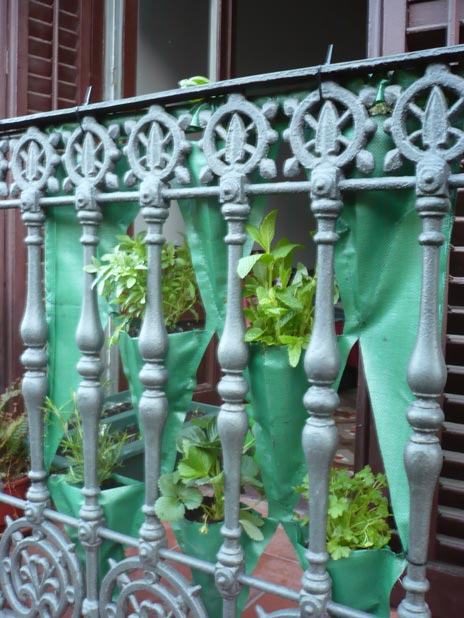 these are images of the prototype created for the competition.